A widely unpopular pension reform scheme has been pushed through France's parliament without a vote, defying mass protests throughout the country.
Key points:
The French government ushered the bill through parliament using a constitutional power
Unions representing garbage collectors, energy workers and transport staff have staged strikes and protests for over a week
President Emmanuel Macron says raising the pension age is key for the nation's budget
French Prime Minister Élisabeth Borne used a special procedure to push the bill through the National Assembly without a vote, while left-wing lawmakers shouted and brandished placards opposing the change.
The bill raises the retirement age by two years to 64, which the government says is essential to ensure the pension system can survive.
The move highlights President Emmanuel Macron and his government's failure to garner a majority in parliament, in a blow to the centrist president and his ability to win support from other parties for further reforms.
Ms Borne was greeted by boos and jeers as she arrived in the National Assembly, the lower house of French parliament, to announce that she would invoke article 49.3 of the constitution to skip a vote on the reform measures.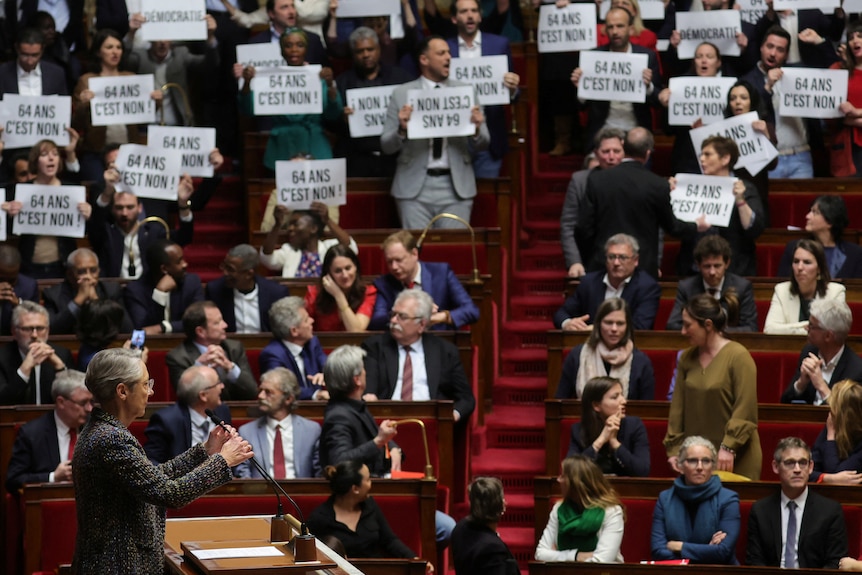 The session was suspended for two minutes after opposition lawmakers singing the national anthem prevented Ms Borne from speaking. Some held placards reading "No to 64 years".
When the session resumed, Ms Borne took the floor but her speech was largely drowned out by boos and chants from opposition members and shouts of "resignation", in rare chaotic scenes in the French parliament.
"We cannot gamble on the future of our pensions, this reform is necessary," Ms Borne told lawmakers, to explain why she was using the article 49.3 procedure.
Far-right leader Marine Le Pen said Mr Borne should resign. "This last-minute resort to 49.3 is an extraordinary sign of weakness," she said, adding: "She must go."
Jean-Luc Mélenchon, the leader of the hard-left France Insoumise — which translates to France Unbowed — called the move "a spectacular failure."
"This bill has no parliamentary legitimacy, no legitimacy from the street," he said at a protest rally outside parliament.
Strikes and protests
For well over a week, French workers' unions have staged strikes in protest of the bill.
Garbage crowds the streets of Paris, liquefied natural gas operations have been suspended and rail services have been cancelled.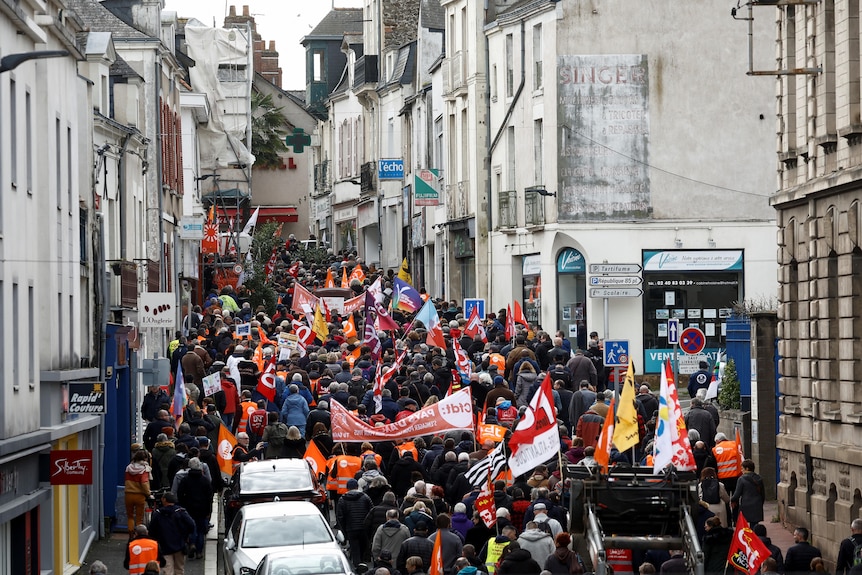 Opinion polls show a vast majority of voters oppose the pension reform, as do unions, who say there are other ways to balance the accounts, including taxing the wealthy more.
Ms Le Pen's National Rally and Mr Melenchon's France Insoumise said they would request a vote of no confidence in the government, which will be voted on in coming days, possibly on Monday.
That is unlikely to pass as most conservative lawmakers would not be expected to back it — unless a surprise alliance of MPs from all sides is formed, from the far-left to the far-right and including the conservatives.
The government had initially said the reform would allow the system to break even by 2030, with 17.7 billion euros in additional annual contributions coming from pushing back the retirement age and extending the pay-in period.
It says the accounts will still be balanced in that time frame, with additional income compensating measures agreed by Macron's camp to try to get support, including a softener for those who started to work early and a top-up for some working mothers.
Reuters