Australian shares have clawed back most of their earlier losses after the Reserve Bank lifted its cash rate target by 0.5 percentage points, in a widely-expected decision.
Key points:
The ASX 200 has dropped 6.1pc since the year began
On Wall Street, the S&P 500 has lost 14pc of its value since January 1
The RBA has lifted rates by 1.75pc in the past four months
This would take the new rate to 1.85 per cent, a big jump since the record low of 0.1 per cent in May. It is also the highest cash rate since April 2016.
The ASX 200 was flat at 6,992 points, by 3:05pm AEST. Earlier on Tuesday, it had dropped by around 0.6 per cent.
However, the Australian dollar sank 0.8 per cent, to 69.7 US cents.
But it suffered even bigger falls against the euro (-0.9pc) and Japanese yen (-1.5pc). This brings the local currency down to 67.8 euro cents and 91.1 yen.
Meanwhile, the central bank is expected to keep lifting rates aggressively over the coming months, as it desperately tries to bring inflation down from its 21-year high.
Effectively, it will do so by lifting rates to a level that makes consumers feel poorer so they visit the shops less, and spend more on their loan repayments.
House prices are also feeling the crunch. Since interest rates begin to rise sharply in May, property values have dropped by 2 per cent — the fastest drop since the onset of the global financial crisis in 2008, according to figures from CoreLogic.
Best and worst performers
Shares in the materials sector fell sharply, including Champion Iron (-4.4pc), South32 (-2.7pc) and Lake Resources (-3.6pc).
On the flip side, some of today's best performers were De Grey Mining (+3.9pc), Zip Co (+7.8pc), Pro Medicus (+2.8pc) and IPH (+2.8pc).
Oil prices fell sharply overnight as investors fretted about the risks of recession, and the prospect of weaker demand for oil after the US, Europe and Asia released weak manufacturing data.
Brent crude futures fell 3.8 per cent, to around $US100 a barrel.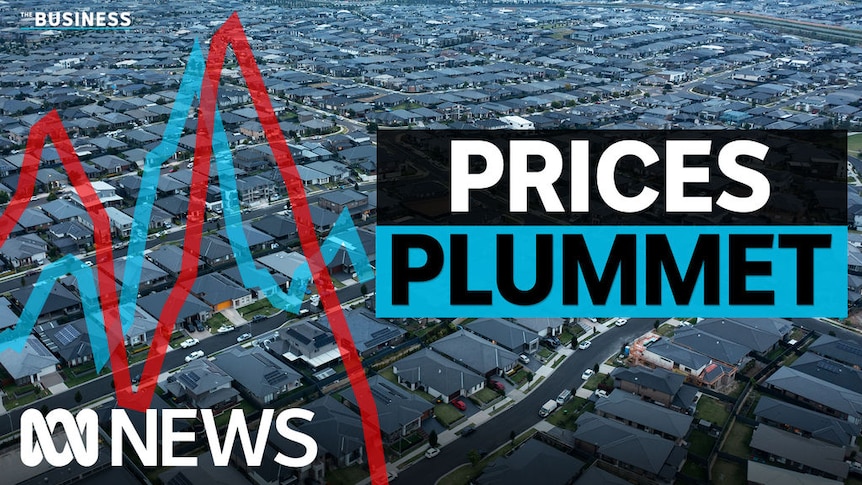 Appen tanks on earnings downgrade
Meanwhile, shares in artificial intelligence company Appen plunged 27.3 per cent after the company flagged a major earnings downgrade.
The company said it will post its first half-year loss since going public in 2015, due to weak demand for digital advertising and rising costs, sending its shares to a five-year low.
It was looking at a statutory net loss of $9.4 million (compared to $6.7 million half-year profit a year ago).
Appen also said that higher "transformation" and IT costs, along with increased employee expenses led to its core earnings plummeting 69 per cent.
Its chief executive Mark Brayan blamed this on "challenging external operating and macro conditions, which has resulted in weaker digital advertising demand, and a slowdown in spending" from its large customers.
The firm sells a range of automation software including programs to help companies including Meta (Facebook) and Alphabet (Google) collate user data.
'A lot of questions' about the economic downturn
The local share market is also following a weak lead from Wall Street, which see-sawed on Monday (local time) as crude oil prices plunged and the looming possibility of US recession curbed the appetite for taking risks.
All three major US indexes were modestly lower on the first day of August, coming on the heels of the S&P 500's and the Nasdaq's biggest monthly percentage gains since 2020.
"There are still a lot of questions about whether we are really out of the woods, economically, and we probably aren't," said Tom Martin, a senior portfolio manager at GLOBALT Investments in Atlanta, Georgia.
"We're not even close on the [economic] effects of the [Federal Reserve] raising interest rates."
The S&P 500 declined 0.3 per cent, to end the session at 4,119 points.
The Nasdaq slipped 0.2 per cent, to 12,369, while the Dow Jones index fell 0.1 per cent, to 32,799.
Energy stocks pulled European markets into the red as fears of weakening demand and economic contraction on the heels of disappointing data from the euro zone and China.
The pan-European STOXX 600 index lost 0.2 per cent overnight.
Gold prices edged higher after the US dollar softened, as investors looked to economic data for clues regarding the pace of interest rate hikes from the US Federal Reserve.
Spot gold added 0.2 per cent, to $US1,768.73 an ounce.
ABC/Reuters
Loading form…