The Commonwealth Bank's head of Australian economics, Gareth Aird, has just sent out his outlook for the year ahead, and it makes for sombre reading.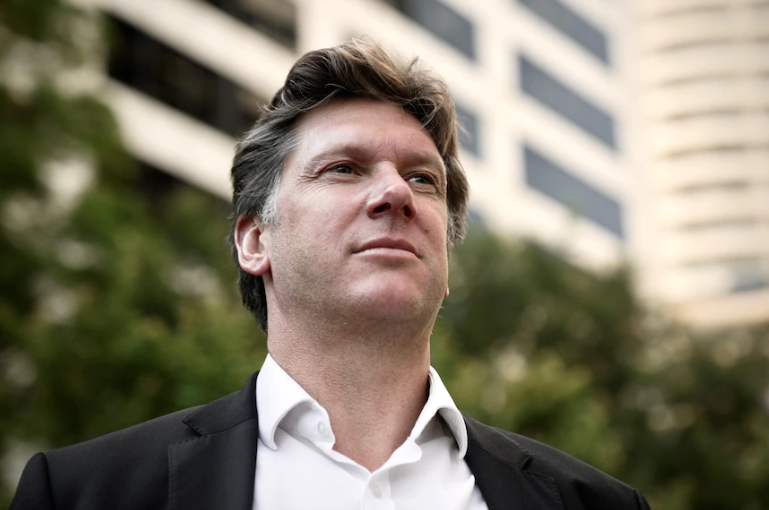 He believes Australia will escape a headline recession — just, with growth of just 1.1 per cent for the year to December '23— but will fall into a per capita recession this year, where population growth exceeds economic growth.
However, Aird believes it wouldn't take much to tip Australia into a technical recession of two quarters of economic contraction:
"Our economic forecasts are conditional on one final 25-basis-point increase in the cash rate in the first quarter of 2023 for a peak this cycle of 3.35%.

"We believe a higher terminal cash rate is inconsistent with a soft landing. We have 50 basis points of rate cuts in our profile for the fourth quarter of 2023."
CBA bases that forecast on an expectation that inflation peaked at 7.7 per cent in the last quarter of last year (ABS data will be out on this next Wednesday) and will fall to 3.4 per cent by late this year.
The bank's economists expect unemployment to end the year at 4.25 per cent, with ABS figures out yesterday hinting that the jobs market has probably already peaked.
CBA, Australia's biggest mortgage lender, also still believes home prices will fall 15 per cent peak-to-trough, with the market bottoming between July and September this year.
That would mean Australia is only about halfway through its biggest housing downturn on modern records.
Aird once again highlighted the lag between the RBA's most aggressive rate rises in modern history and when they hit consumer bank balances and spending:
"A dichotomy in the economic data began to open up in late 2022. Backward looking labour market data remained robust. And prices and wages data continued to strengthen. But forward looking data, which includes housing lending, building approvals, the PMIs, home prices and consumer and business sentiment deteriorated.

"Consumer spending, which is a coincident indicator, remained elevated over the festive period in nominal terms. But we anticipate growth in the volume of spending over recent months has been modest. A further softening will occur in 2023.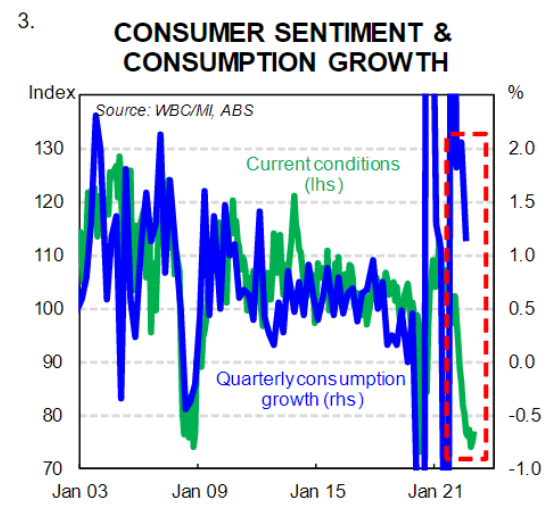 "The RBA has focussed a lot on the resilience in consumer spending. And that is understandable given demand for goods and services determines price outcomes (i.e. inflation). But official data on spending to date has only partially captured the impact of rate hikes.

"It takes time for rate hikes to impact home borrower cash flow and by extension spending decisions. And far more borrowers than usual are on fixed rate mortgages, which blunts the initial impact of rate rises.

"But fixed rate home borrowers in Australia are not insulated from rate hikes indefinitely. They are generally on short dated fixed rate mortgages and half of these loans will expire this year.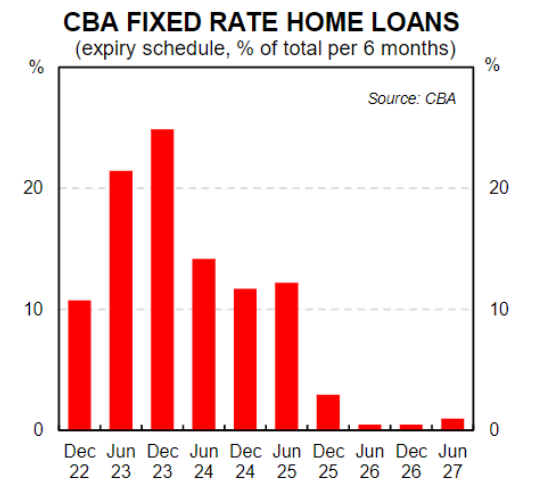 "As such, a significant amount of tightening lays ahead irrespective of how much higher the RBA takes the cash rate."