The Australian Tax Office says millions of dollars in annual tax revenue could have been lost if consulting firm PricewaterhouseCoopers (PwC) had successfully rolled out a tax-avoidance scheme it designed using confidential government briefings.
Key points:
A former PwC partner briefed on government plans to thwart multinational tax avoidance shared details with colleagues
PwC was marketing an avoidance scheme to overseas-based clients within weeks of the laws taking effect in 2016, the ATO says
The scheme was scrapped, and the new laws resulted in about $100m in income tax and $80m in GST being taken in each year
A former PwC partner was recently sanctioned by the Tax Practitioners Board for integrity breaches, after it was revealed he shared confidential briefings with colleagues.
Peter-John Collins was part of Treasury consultations on the design of new multinational tax avoidance laws, and despite signing three confidentiality agreements, shared details of the government plans with others in the firm.
The ATO has told a Senate estimates hearing that when the new laws took effect in 2016, "within weeks" an avoidance scheme was being marketed to overseas-based clients of PwC to circumvent the new arrangements.
ATO commissioner Chris Jordan said it was noted at the time how quickly the scheme had been put together.
"Normally it would take a while for people to look at it, how it all fits together," he said.
"Within weeks, we became aware of a scheme being marketed to multiple companies."
Mr Jordan said he "can't say either way" if all the companies were clients of PwC but said "some were, some could've been prospective clients".
The law was designed to penalise multinational companies recording sales made to Australian consumers through their overseas entities, and in doing so avoiding paying Australian taxes.
The ATO's Jeremy Hirschhorn told the hearing the tax office was frustrated at seeing the new laws potentially subverted so quickly.
"We were particularly exercised by people trying to avoid an anti-avoidance provision," he said.
He said ultimately PwC publicly acknowledged the scheme it was marketing to clients was "not in line with community expectations" and pulled it.
Forty-four multinational companies complied with the new laws and restructured their business to record Australian sales on-shore.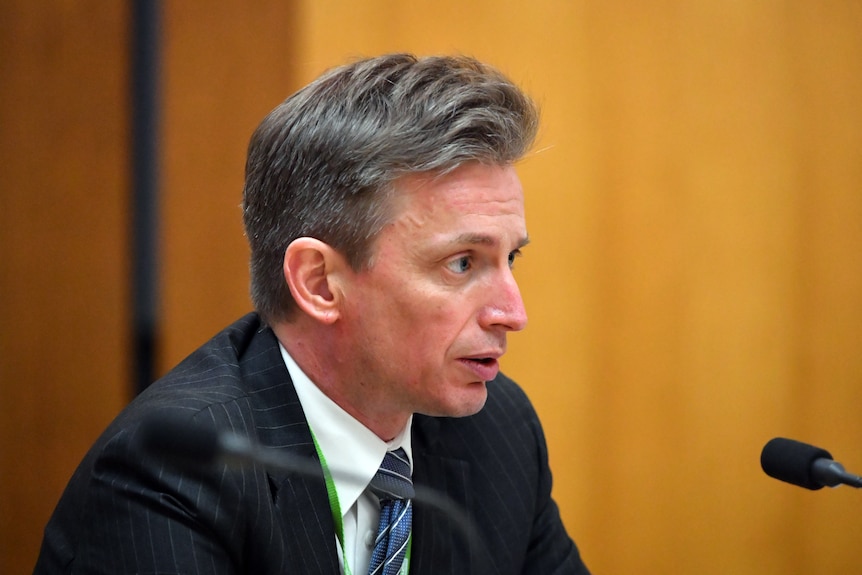 Mr Hirschhorn told the hearing those changes delivered a significant tax windfall that would have otherwise been lost.
"We estimate that resulted in $100 million in income tax … being collected a year in Australia, and $80 million worth of net GST being collected in Australia each year," he said.
"If these structures had been effective, or been implemented and unchallenged, that was the tax at risk.
"We protected the revenue so that Australia did not lose money as a result of this breach of confidentiality."
Minister says PwC has suffered 'reputational damage'
When asked if PwC will be considered for future contracts with the ATO, particularly involving confidential information, ATO officials pointed out that PwC remains on a "panel" of suggested consultants maintained by the Department of Finance.
Greens Senator Nick McKim questioned Finance Minister Katy Gallagher on whether the firm should be blacklisted.
"How can you trust them, minister?" he asked.
"Ministers don't make procurement decisions, for good reason," Senator Gallagher replied.
"Our job is to ensure that the procurement rules, and the way that contracts are let, are done in accordance with the procurement rules, and that agencies enforce that."
But the minister made clear PwC's reputation had been significantly harmed.
"I did say that I think they have suffered reputational damage, because I think that they have," she said.
"I think they know they have."
PwC has been contacted for comment, but in a statement previously provided to the ABC, CEO Tom Seymour said steps had been taken to prevent confidentiality breaches occurring in future.
"We proactively reviewed and strengthened our controls and policies and introduced a comprehensive education program to help all our people identify and avoid any conflict risks," he said.
"These actions were undertaken in consultation with the regulators."