The federal government will impose stricter carbon emissions limits on the nation's biggest polluters from July, cutting an accumulated 200 million tonnes of carbon dioxide emissions by the end of the decade.
Key points:
The government has proposed 4.9 per cent annual emissions cuts on big polluters
It says tightening the safeguard mechanism will eliminate an accumulated 200 million tonnes of carbon by 2030
The mechanism imposes emissions ceilings on big polluters, and penalises those that exceed it
Around 215 of the biggest polluting facilities in Australia are subject to the "safeguard mechanism". Tightening how much companies could emit before being penalised was one of the government's signature policies to reach a 43 per cent emissions reduction from 2005 levels by 2030.
Climate Change Minister Chris Bowen said the changes being made would require big polluters to contribute their fair share towards cutting carbon emissions.
"Facilities covered by the safeguard mechanism are responsible for almost a third of Australia's emissions," Mr Bowen said.
"Twenty-eight per cent of emissions come from them — we will require 28 per cent of emissions reduction to come from safeguard facilities."
Limits on facilities such as coal and gas plants, aluminium smelters, manufacturing plants and airlines will be based on their emissions intensity, not overall emissions, meaning that companies will not be able to meet requirements by reducing production.
The emissions ceilings or "baselines" of each facility will now initially be determined individually, and then will be lowered by 4.9 per cent each year to 2030.
Facilities covered by the scheme will eventually be moved onto industry benchmarks that will be applied equally, making low emitters more competitive.
An overall carbon ceiling will also be set on the scheme, and applied equally to all facilities covered by it, to ensure the 2030 target is met.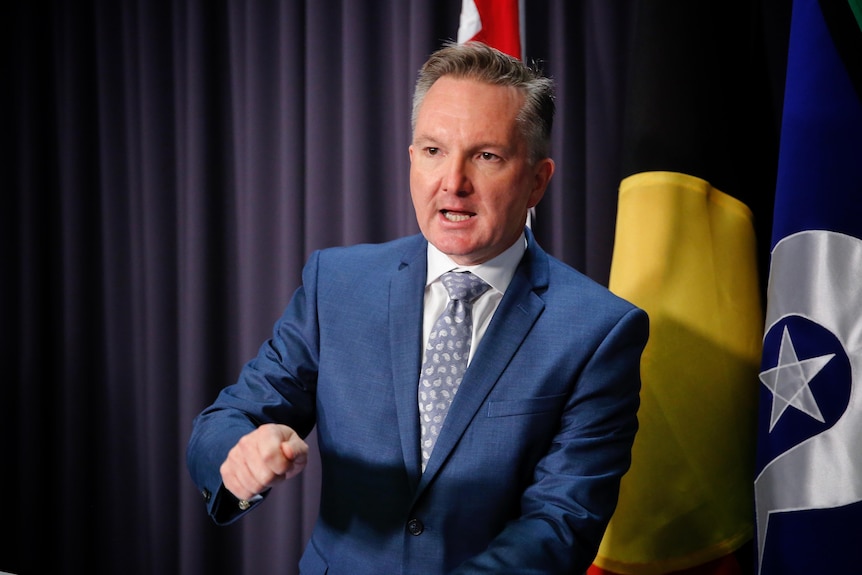 The mechanism works effectively as an emissions trading scheme: facilities that fall below their baseline will earn carbon credits that can be purchased by facilities that exceed their baseline to help them meet their requirements.
Mr Bowen said allowing facilities to trade credits would soften costs to the economy while still ensuring Australia's carbon abatement goals were met.
Access to the existing domestic carbon credit scheme, which critics have argued does not incentivise any additional emissions reductions, will remain unchanged.
But facilities covered by the scheme would no longer generate those credits, known as ACCUs, to prevent double-counting emissions reductions
The Australian Conservation Foundation warned allowing companies unlimited access to carbon credits would enable them to pay to keep polluting, putting the goal of net zero emissions by 2050 at risk.
The Australian Chamber of Commerce and Industry said the biggest emitters must do their "fair share" of cutting carbon emissions, but it welcomed individual baselines being set for each facility, as it recognised cutting emissions was more difficult for some facilities than others.
The government projects emissions by facilities covered by the safeguard mechanism will fall from 143 million tonnes per year to less than 100 million tonnes by the decade's end, amounting to a 28 per cent reduction over that time.
Mr Bowen said it was the equivalent in emissions reduction to two thirds of Australia's cars being removed from the road.
Greens say Labor must end new coal and gas projects, as Senate fight brews
The safeguard mechanism has existed since 2016 but was largely unused because emissions ceilings were set well above what companies were producing.
Ahead of the announcement, the Climate Council said the simplest method to ensure major polluters reduced their carbon emissions by a fair and proportional amount would be to require them to cut their emissions by 43 per cent by 2030.
They said failing to do so would mean that Australia would either not reach its target, or other parts of the community would have to do more.
The Climate Council said for the biggest polluters to hit that mark they would have to cut their emissions by 7 per cent each year based on the sector's 2020-21 emissions — above the government's proposed 4.9 per cent annual reductions.
The government's proposed reforms will require the backing of the federal Greens to pass the senate, unless they are supported by the opposition.
Acting Greens leader Mehreen Faruqi said the proposed reforms were not strong enough, and the party would use its position in the Senate to "push" Labor to stop opening new coal and gas projects.
"The more we let coal and gas off the hook, the more everyone else will have to do," Senator Faruqi said. 
"Australian households and manufacturing shouldn't be asked to do more just so coal and gas can keep on expanding."