Iconic music retailer Sanity will close its remaining physical stores in Australia this year after more than 40 years of operation.
Key points:
Sanity will close its 50 remaining stores by April 2023
The company blamed the shift away from physical media for the decision
Sanity will continue to operate as an online-only business
The company said it will close its 50 remaining brick-and-mortar stores by the end of April 2023.
Founded by retailer Brett Blundy in 1980, the chain grew to include more than 230 stores across Australia by the year 2000.
Current owner Ray Itaoui said the growth of digital music consumption in recent years had forced the company's hand.
"With diminishing physical content available to sell to our customer, it has made it impossible to continue with our physical stores," Mr Itaoui said.
Mr Itaoui said the online business will continue to operate after the closure of the remaining stores.
He assured that all customers who have placed orders would have them fulfilled via the online business if their local store had closed.
Outpouring of emotion on social media
Australians came together on social media to mourn Sanity's impending demise.
Some remembered their first album purchases.
While others reminisced on their time behind the counter.
Australian comedian Aaron Gocs rose to online prominence with his tour of the remaining physical Sanity stores.
Over the course of two years, Gocs visited 29 instore locations across Australia, nearly 60 per cent of the Sanity stores left in the country.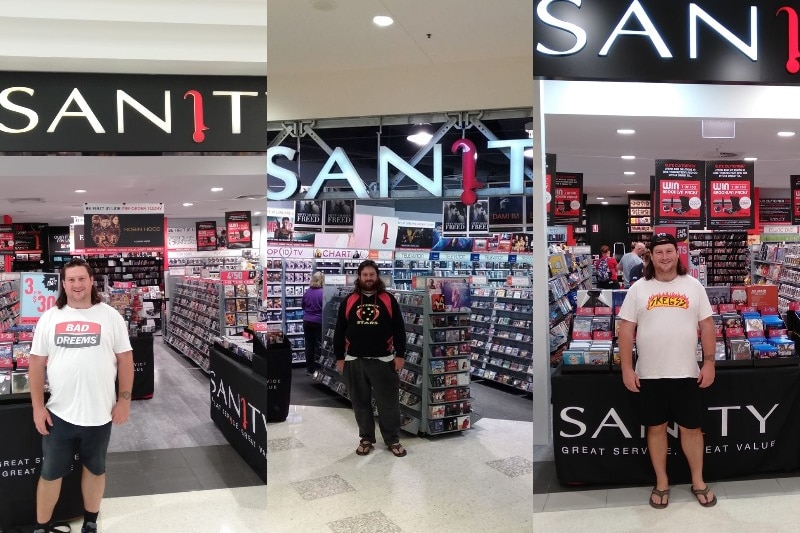 He said it was a sad day for many Australians.
"As a child of the 90s, it was something we grew up with, CD shops. It felt like it was hanging on by a thread," he said.
Gocs said the business was not thriving at many of the locations he visited.
"There was a strangeness about it, like a ghost town feel," he said.
Gocs said he would consider visiting the remaining Sanitys before their final closure in April.
"It is a bit surreal that [the closure] of some businesses is very instant," Gocs said. 
"It's good that they've given us this time to grieve and get along to pay our respects."